The Maximizer
.
Our innovation team has done it again! Our latest upgrade to Jackpot Poker ensures you'll never have to wait for a Jackpot Poker game to start again. Our new Maximizer tool automatically finds you up to 10 games at a time to make sure you're getting the most out of the time you have to play!
No more clumsy waiting lists while you play. Maximum tables, maximum action!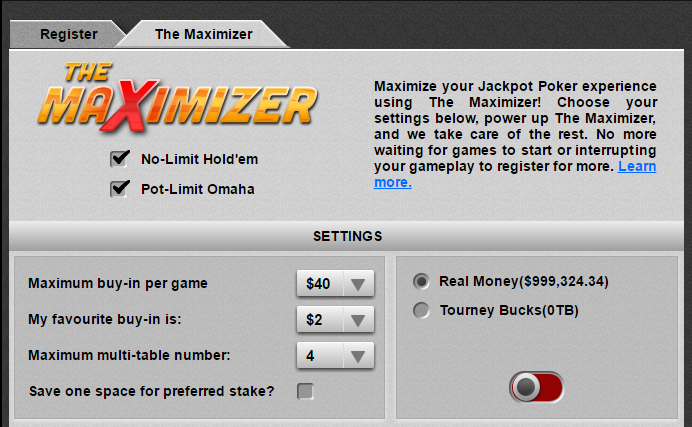 Here's how it works:
In the Maximizer lobby (pictured above), select the maximum buy-in amount that you are comfortable playing
Then select your favorite buy-in. This way, the system will always reserve one table for your preferred stake and continually search for games at this buy-in amount.
Then select the maximum number of tables you want open at any given time.
Mark the check box to reserve one table at your preferred stake
It's that easy. As games become available, the system will automatically seat you up to the maximum number of games that you want to play while continually searching for games starting at your preferred stake.
Once you've reached your desired number of tables, the Maximizer will then automatically take you out of the queue until you complete playing one, then it will automatically start searching again.
Non-stop action is here! Find The Maximizer under the Jackpot Poker tab of the poker client!