Preferred Seating
It's now even easier to multi-table on Winning Poker Network!
Winning Poker Network has now made it easier than ever for players to multi-table through technological enhancements and features made available in the poker client. When playing more than one table it's easy to get confused as to where you're sitting while making numerous decisions simultaneously. WPN now makes it easier than ever to follow the action at multiple tables with the preferred seating option which allows you to sit in the same seat at every table…….every time!
How it works:
Whether you're playing cash games or tournaments, shorthanded or full ring you'll now be able to select your preferred seat for each table type that will be automatically stored in your settings every poker session you sit down to play.
Here's How:
When sitting at a cash game or a tournament table click the options symbol in the top left hand corner of the play table…..the symbol appears as "two small wheels" underneath the VIEW button.
When the options box opens up, click the Preferred Seating Tab displayed on the top right corner
Click on the designated table type of which you would like to set your preferred seat. You'll have the option to choose between:
○ 2 handed
○ 6 handed
○ 8 handed
○ 9 handed
Click on the seat that you prefer. Once you've selected the designated seat you will see it highlighted in red. Simply click Apply at the bottom of your screen and your seating preferences will be saved.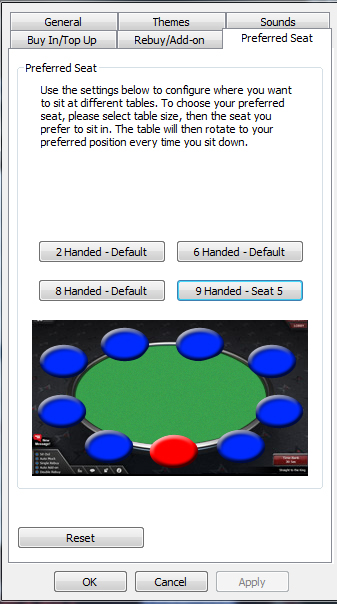 It's as easy as that. Now every time you login your seating preferences will be saved an you'll be sitting at the same spot at every table allowing you to easily visualize your spots on across screen as you play multi-table poker.