CAP Tables
Have you ever wanted to play in a bigger game but just didn't want to risk the investment of a full buy-in? Well now you can thanks to WPN CAP tables.
At various limits Winning Poker Network now hosts capped tables in which players can only lose 30 big blinds at each limit they are offered. This option by design allows players to play in a bigger game with a higher blind structure but protects them from losing too much in any one single hand.
Here's how they work:
In the cash game lobby tables capped tables are easily identifiable as CAP ($cap amount) are displayed under the 'Limit' column.
Each game is capped at a specific amount that does not change.
. The cap for the hand is based on the entire hand and not by street.
. When playing you are allowed to bet up to the cap amount at any time during the hand.
. If you shove in your entire stack for $1,000 on a 5/10 capped game your bet will count as $300 (which is the cap) and the remainder of your money will returned to you.
The limits offering cap tables range from $0.01 all the way up to $25/5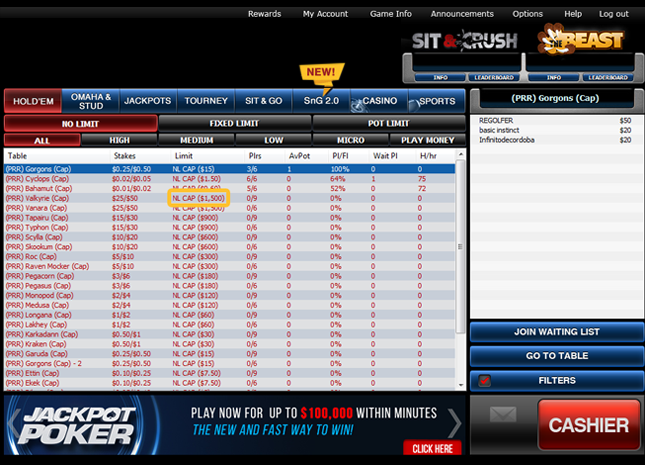 CAP tables are exciting because they level the playing field for every hand, giving short-stacked players more opportunity to play and win. And players sitting with large stacks can look forward to more action from players who'd otherwise be reluctant to jump on a raise.
Looking for CAP tables? You'll find them at low, medium and high-stakes tables (up to 5/10).